Here at SweetHawk, we love the way Zendesk does incident and problem management. However, once a problem is logged, the path forward regarding change management, approvals, planning and project implementation has always been open to interpretation.
In light of this, we've built a series of apps that provide a more definitive, configurable and prescribed offering for these parts of the ITSM anatomy. The video below shows one example of an ITSM workflow in Zendesk that you could build using SweetHawk apps, but the possibilities are endless...
Apps included in the above video are:
Adds an extra "Ticket type" for "Changes" to take place in Zendesk.
Allows for an unlimited amount of "Change types".
Creates a series of ticket fields commonly used on change type tickets.
Adds conditionality around ticket fields for changes.
Allows you to link each change type to its own change model documentation.
Create sub-tickets.
Manually or automatically add saved task lists to tickets.
Define details of sub-tickets to be automatically created at any point during a ticket's lifecycle.
Require approvals to take place on specific types of tickets.
Send approvals either automatically via Zendesk triggers or manually by agents on a ticket.
Send multiple approval requests sequentially, in parallel and/or as group approvals.
Approval logs and auditability.
Unlimited approvers that do not need to be agents in Zendesk.
Plan when changes will be implemented.
Create an unlimited number of calendars for each department and/or Zendesk agents
Syncs with Google Calendar and Office 365
Here is the flowchart of what's covered in the video above...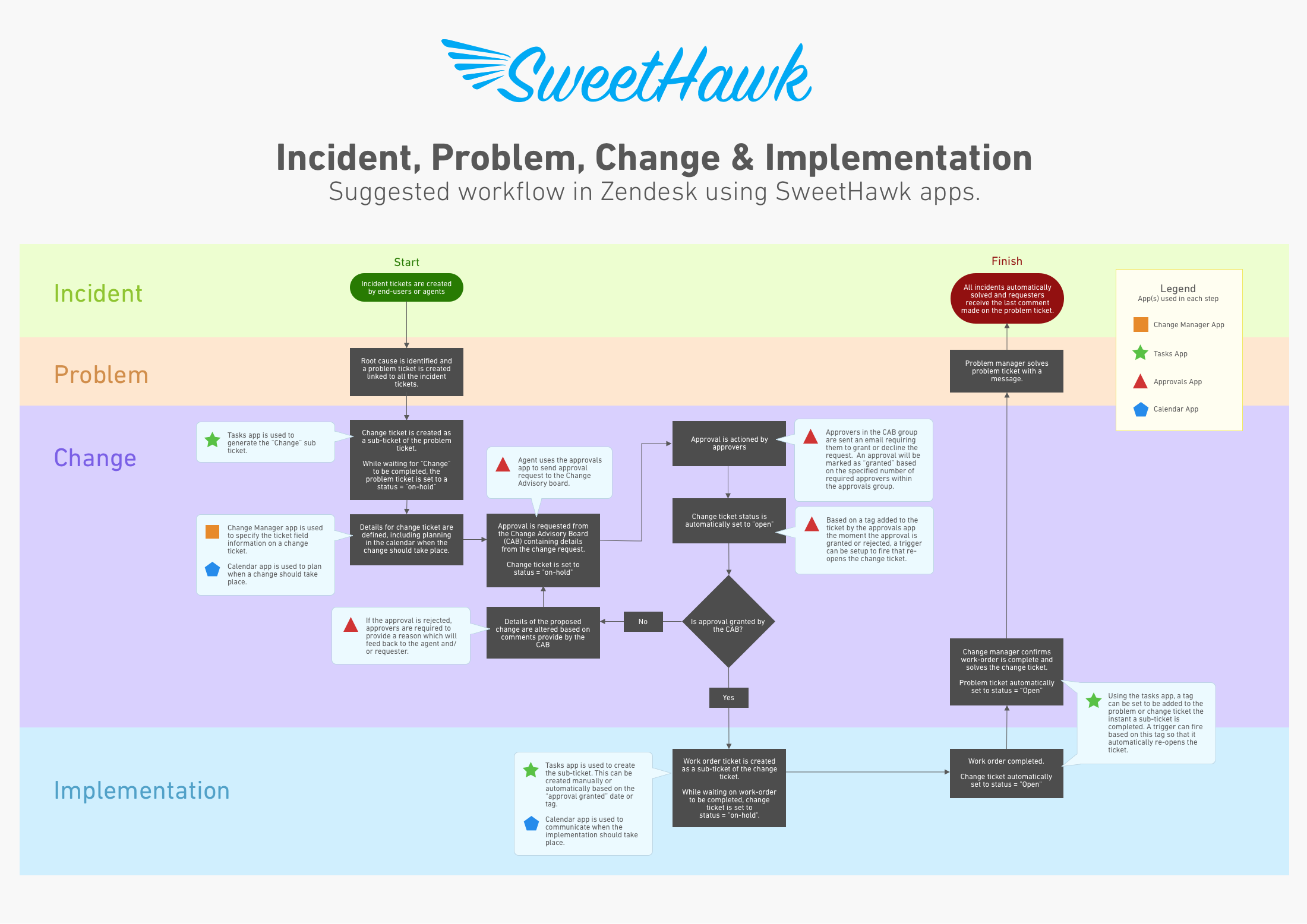 ---
Ok, so let's get into a little more detail about exactly how SweetHawk apps help each step along the way...
Incident/
Problem
NATIVE IS THE WAY
Incident and problem workflows in Zendesk are a well-trodden path. Zendesk's awesome native functionality allows you to link any number of incidents to a problem. When a problem is marked as 'solved', any final comment is also sent to all unsolved incidents at the same time as automatically marking them as 'solved'.
---
Change
ADDING THE TYPE
A 'change' might be considered as a missing ticket 'type' in Zendesk for ITSM purposes. As such, the Change Manager App creates this type for you, to go alongside Zendesk's native ticket types (Question, Incident, Problem & Task). But since changes are usually much more complex than the other 4 types, the app allows you to specify an unlimited number of 'Change Types' with the added ability to conditionally show a different set of Zendesk ticket fields for each of them. Each change type is also able to be linked to separate knowledge base articles so that 'change models' can be documented for each.

THE MISSING LINK
In a similar way that incidents are linked to problems, the SweetHawk Tasks App allows you to link 'change' tickets to problems or incidents. This allows agents to track the origin of a change request without the need to go searching.

PLAN WITH CONFIDENCE
Deciding on when a change should take place could mean you find yourself swivel-chairing between Zendesk and several company calendars. The Calendar App allows you to plan events right on the Zendesk ticket across multiple calendars and integrates with Google Calendar and Office365.

AUTOMATING FLOW
Once a problem ticket is waiting for a change ticket to be completed, it can automatically be set to a status of 'on-hold' until the change is completed, at which point, it can automatically be moved back to an 'open' status. The tagging functionality of the Tasks App allows you to perform actions like these in combination with Zendesk triggers.
---
Approval
Since Zendesk does not have an in-built approvals engine, the Approvals App can provide keystone functionality for businesses that need to design and regiment transparent & watertight approval processes. It caters for multiple use cases entailing multi-step sequential or parallel approvals, conditional approvals, line manager approvals and group approvals where only a percentage of a team is required to give the nod before approval is considered officially 'granted'.

ANYONE CAN BE AN APPROVER
You don't need to be an agent in Zendesk to be an approver. All that is required is that approvers check their email, and click "Approve" or "Decline" on the data they've been sent. This simplicity is extremely well suited for those that have limited time and do not want to or know how to login to Zendesk.
---
Implement
LINK IT BACK TO THE CHANGE
In the same way that 'change' tickets can be linked to problems or incidents. The Tasks App also allows you to link implementation tickets to 'change' tickets.

AUTOMATED FLOW
When creating a work order, the Tasks App allows you to automatically copy all of the relevant data from the change ticket (including the calendar event details), without the need to manually copy and paste.
---
Review &
wrap-up
AUTOMATED FLOW
The tagging functionality of the Tasks App allows you to automatically set the 'change' ticket to 'open' at the point the implementation ticket is marked as completed. Once the change manager is satisfied the implementation is complete, when they mark their ticket as done, the 'problem' ticket can automatically be re-opened for review before communicating back to the end-users about the newly created solution.