In addition to the app restrictions Zendesk already provides, SweetHawk apps allow you to manage and delegate permissions to agents who require more than just basic access to an app. This is ideal if you have a team leader who needs access to manage the app but is not an administrator in Zendesk.
At the same time, the functionality of the app management extends beyond more than just permissions which will be covered in this article.
To open the app management window, start by navigating to the admin tab over in the app, then find where it displays the number of admins/managers and select View/modify.

| | |
| --- | --- |
| | The new admin panel is only available for the following apps: Approve, Field Conditions, Future Tickets, Notify, Recurring Tickets and Timers |
From here, the interface can be separated into two parts – Agents who already have access to administrate or manage the app (App admins/managers), and agents who have access to the app but have not yet been granted permissions to manage the app (App users). Depending on the size of your team, the latter will be for the majority of your agents who only need basic access.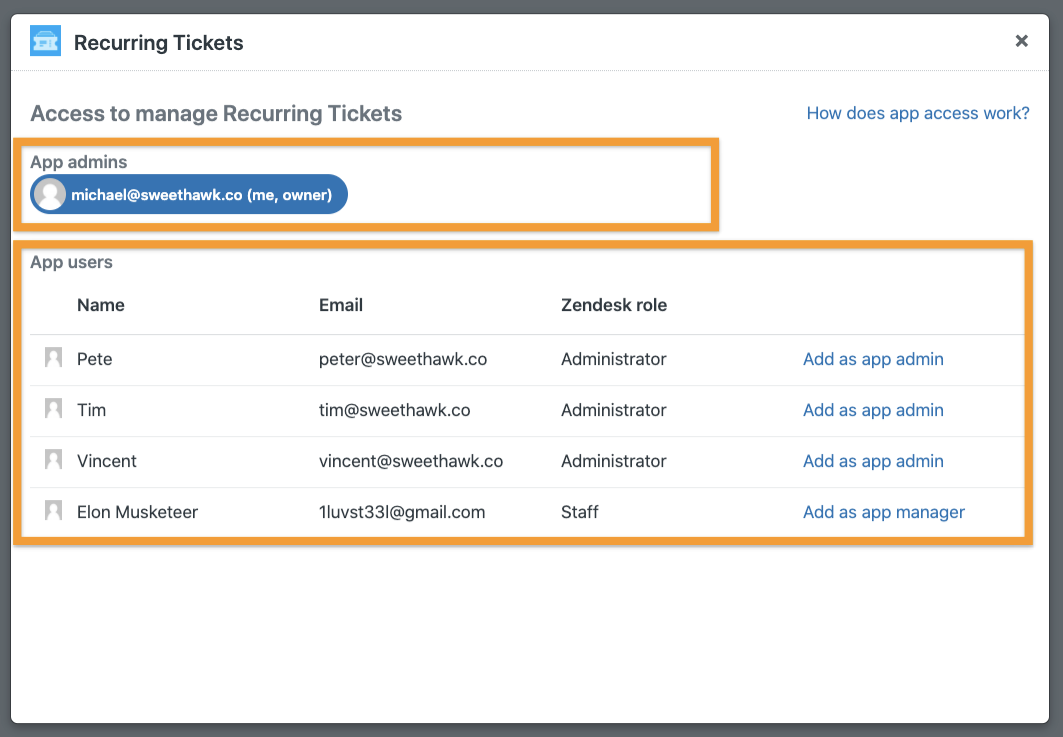 As an administrator of the app, you're able to add individuals to the list of who can manage the app, the difference being that only Zendesk administrators may become an app admin while all other agents may only be app managers.
Note, Zendesk administrators can still grant themselves access to manage the app via the icon in the left navbar without having to chase up who the current admins are.

The app management window can also provide useful insight when troubleshooting issues relating to Zendesk restrictions by letting you know if any have been enabled. If the agent's name does not appear in any of the lists, they do not have access to the app and you will need to review the restrictions in place. You can learn more about how Zendesk restrictions work by reading an article we have here.